New Aarhus of Denmark signing Jack Wilshere has revealed his fastest teammate during his Arsenal playing career. Wilshere made this known while he was on British radio TalkSport as he mentioned Theo Walcott. According to him, Theo Walcott was his fastest Arsenal teammate and he didn't play with anyone faster throughout his career till date.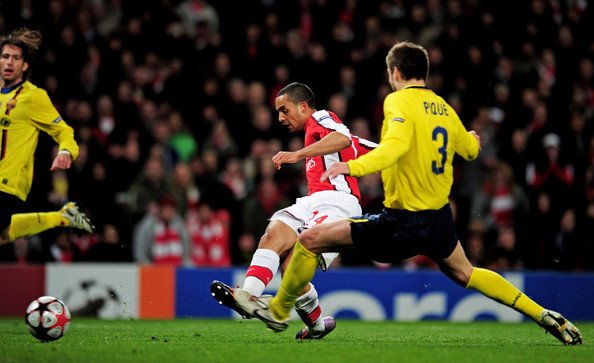 Wilshere talked about Theo Walcott while he looked back on the famous win at home to Spanish La Liga giants Barcelona in the Champions League in 2011. It was the first leg of the last 16 tie between Arsenal and Barcelona during the second half of the 2010/11 season. Arsenal showed fighting spirit as they came from a goal down to beat Barcelona 2-1 at home with goals from Andrei Arshavin and Robin Van Persie in the last quarter of the game.
Walcott and Wilshere played important roles for Arsenal as they overcame their Spanish opponents to establish a lead ahead of the second leg at the Nou Camp. Wilshere produced a man-of-the-match display in midfield as he dominated the experience Barcelona midfield trio of Sergio Busquets, Xavi Hernandez and Andres Iniesta.
On Walcott, Wilshere said that the Englishman was instrumental to getting Arsenal up the field with his speed since they had to do without a lot of the ball. He said the pace of his compatriot was instrumental for the Gunners on the way to a big win at the expense of the Pep Guardiola-led Barcelona team.
Wilshere and Walcott were Arsenal teammates for a lot of years before the speed merchant left the North London club to sign for Everton in a £20m deal in January 2018. Wilshere then left Arsenal on a free transfer some months later.
Walcott is presently at Southampton in the Premier League, while Wilshere is a new signing at Aarhus.