Following the UEFA Euros final loss that England suffered at the hands of Italy on Sunday, some of the Three Lions players were subject to harsh racial abuse online. As the second half of extra time approached a tail-end, the scoreline was still 1-1, with neither side able to find a breakthrough after 120 minutes of football. The match then needed to be decided by spot-kicks and just before the final whistle that signified the end of the second half of extra time was blown, England head coach Gareth Southgate decided to bring on Marcus Rashford and his new Manchester United teammate Jadon Sancho.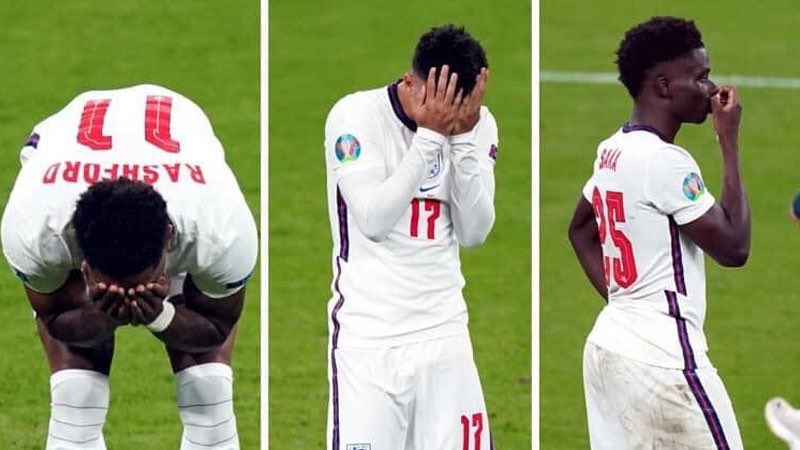 The two forwards were going to join the match toward the end of the 120 minutes of action and were introduced into the fray so they would partake in the penalty shoot-out. After a couple of penalties taken by players from both teams, it was Rashford's turn to take but he didn't score. He instead hit the post and England suffered two more penalty losses as Sancho and Arsenal youngster Bukayo Saka also failed to hit the back of the net.
The outcome of the incident was that Italy were crowned Champions and England suffered a huge loss after finally making it to their first final in over 55 years. It was not even Monday yet and England fans took to social media to rain racial abuses on the three players. The activity continued till the following day but a lot of players and former footballers across the world stood in the defense of the three players, including former Arsenal man Theo Walcott.
The Southampton forward says that even though he knows that it will be hard to stop racism in football, it is never a good thing to experience. He then asked the three players to turn deaf ears and blind eyes to the abuses and focus on becoming better players.